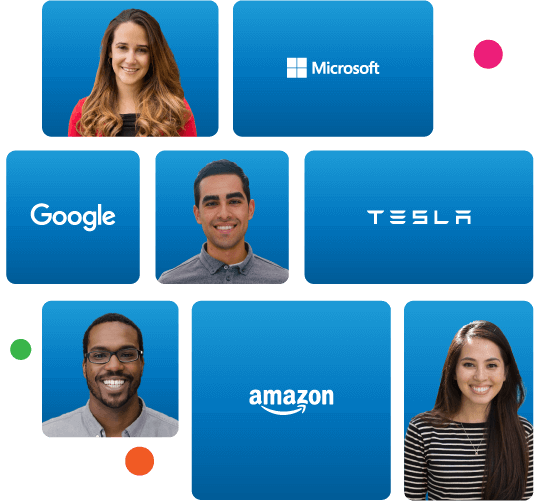 Launch your Tech Career with Sabio Coding Bootcamp!
Voted Course Report's Best Coding Bootcamp
5 years in a row




Exceptional training,
Exceptional Results.
We have been training software engineers since 2013 with our full stack coding bootcamp curriculum.
Our Alumni are now working at these amazing companies:
Council on Occupational Education Public Announcement
Sabio Enterprises, Inc. is applying for initial accreditation with the Commission of the Council on Occupational Education. Persons wishing to make comments should either write to the Executive Director of the Commission, Council on Occupational Education, 7840 Roswell Road, Bldg. 300, Suite 325, Atlanta, GA 30350, or submit comments on the Council's website (www.council.org). Persons making comments must provide their names and mailing addresses.
What makes Sabio Coding Bootcamp unique?
Comprehensive Curriculum - From software engineering skills, to tools that'll help you impress recruiters, lead a team and run your own business
Option of further specialization in either Node.js or .NET
Active global network of mentors and Sabio alumni, who are entrepeneurs, product managers and developers.
Sabio is for everyone - Various schedule options, preferred payments, and veteran funding are available for anyone who qualifies for the course.
Zero Payments
Until you get a job
At Sabio, we strive to make an education in tech as accessible as possible to anyone that wants to pursue a career in coding. We offer several financing options to our students based on their needs and hold no bias against them in regards to their employment status, professional background, or previous student debt. Under the deferred payment program, you won't be obligated to make any payments while you train, and during your job hunt, up to 12 months.

Veterans can use their VA benefits to enroll at Sabio.
Become a
Veteran in Tech
There are hundreds of diverse tech career options that you can pursue once you graduate from our coding bootcamp. As soon as you enroll, we will help you figure out which engineering or developer path suits you best. You don't have to have a background in tech but you need to be fully committed which is where your background of high self discipline as a veteran will come in handy.
Ready to take action?
Take the first step!
Schedule your Info Session today. We can't wait to meet you!
Info Sessions are your chance to meet our instructors via Zoom and to get an overview of what Sabio and Alliant International University have to offer from our innovative program. It's a warm environment where you can ask questions and get over any fears or hesitancy you may be experiencing.
*All times are PDT/PST