Amazon Career Choice
The educators in the Amazon Career Choice Partner Network deliver on our commitment to provide associates with high quality, supportive educational experiences that lead to new career opportunities outside of Amazon.
Together, we are dedicated to providing education that is affordable, aligned with industry demand, and tailored to meet the unique learning needs of working adults.We are proud to join forces with these local, national, and global partners.
Amazon Career Choice Program Breakdown
---
Total Program Hours:
238 hours over 20 weeks
Program Schedule:
12 Hours Per Week
1 Week Night (3 Hours)
Saturday (6 Hours)
Plus Homework (3 Hours)
Weekly Program Commitment:
9 Hours of Class Per Week
3 Hours of Independent Work Per Week
Tools Taught:
HTML5, CSS3,
React.JS, VS CODE,
Yarn, GitHub
Amazon Career Choice
---
Amazon Career Choice was launched in 2012.
Amazon Career Choice is live in 14 countries (U.S., Canada, U.K., Germany, Spain, France, Ireland, Italy, Poland, Czech Republic, South Africa, Costa Rica, Slovakia and Australia) with plans to expand into other international markets.
Amazon Career Choice has had more than 40,000 associates have participated globally since inception (30,000 in the U.S.).
Amazon Career Choice offers five broad fields of study: Transportation, Healthcare, Information Technology, Mechanical and Skilled Trades, and Administration
Amazon has more than 60 Career Choice classrooms in Fulfillment Centers (FCs) across the US, and more than 20 in Europe. Many of our new FCs have on-site classrooms as part of their standard blueprint. [The safety of our employees is our priority. Since COVID-19, we have put onsite learning on hold and are increasing our online offerings.]
Info Sessions
---
Join us for Amazon Career Choice
Informational sessions!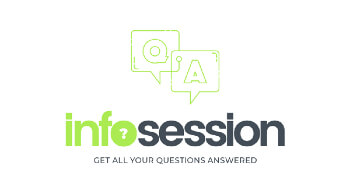 Career Choice FAQ
---
1. Course Summary
This course will cover the following topics so that you can earn employment opportunities as JavaScript Engineer.
Foundational HTML/CSS
JavaScript
Reactjs
Api Integration into Browser based applicaitons
Chrome Developer Tools
VS Code
RESTFul Api's
Third Party Api Integrations
Modern Software Engineering Design Patterns
2. Class Start Dates
Sessions begin Tuesday, June 1, 2021. Ask for details here
3. Class Times
1 Week Night
Depending on your location, you will have 1 week night of class that starts at 7 PM local time.
Saturday
You will have class on every Saturday from 9 AM to 3 PM local time. You will have a 45 minute lunch break.
4. Location
Live & Remote
Classes will be held via Live Remote with an instructor. You will need to have a reliable internet connection.
5. Cost
$0. Your Career Choice Program is covering the cost of this program
6. What Type Of Certification?
You will get a Professional Certificate in React Engineering
7. Books Needed?
NONE
All course materials and labs will be provided online